It's all systems go as everyone knows they have about 7 weeks till term finishes and then we are Amelia Freer, Uber & Mr Marvel all rolled into one. One of things that has to be sorted before they break up is your summer holiday wardobe.  Namely holiday dresses.  Have you tried on dresses, or anything for that matter, with sprogs in tow? Yes, not relaxing at all.
Here are a few from the high street and I have also included a couple from my new website TLM Edit. Please be assured, I will only recommend items from this website if I truly love them. Most of my picks will continue to range from handmade to the high street and a few designer if I think it is REALLY worth it (ie. timeless)
So, admin aside – I promised you 'Holiday Dresses' in my recent 'School Run' Dresses so here they are!
Embroidered Trim Midi Dress £120
If you can avoid sticky fingers, this dress is beautiful.
Melissa Odabash Fruly Woven Dress £172
Easy to throw on and very feminine. Probably best at the end of the holiday when you have a bit of colour.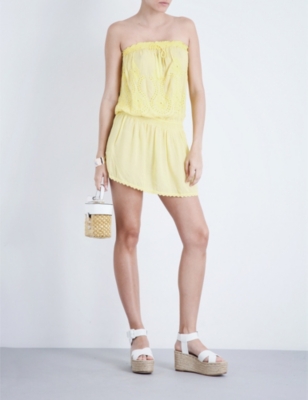 Not only is it red, I love the low slung waistline.
Who can't resist a dress with the word 'love' in its description. So feminine.
The off the shoulder trend is still in full throttle, so grab this whilst you can – it has already been reduced.
Naftul, Eyelit Trim £126
I reallyyyy want this dress.
Pale Pink Loose Fit Pocket Dress, £90
This also comes in 4 other colours, but I chose this one as it is not often you see pale pink T Shirt dresses. Great pocket detail.
Super cute and a flattering colour for all skin tones. Would only wear this on holiday though. (Why do we feel more daring when abroad?!)
Perfect over shorts as per this photo or bikini on holiday. Lovely if you are on the taller side.